Protect Their Vision for Years to Come
Myopia control is a form of treatment designed to slow the progression of myopia in children. Myopia, or nearsightedness, is a very common condition that causes objects at a close range to appear clear and objects at a distance to appear blurry.
The severity of myopia can vary by person. It usually develops in early childhood and can progress until the age of 25. Getting myopia control treatment can help lessen the severity of myopia in children as they grow up.
Contact us today to learn about myopia control for your child.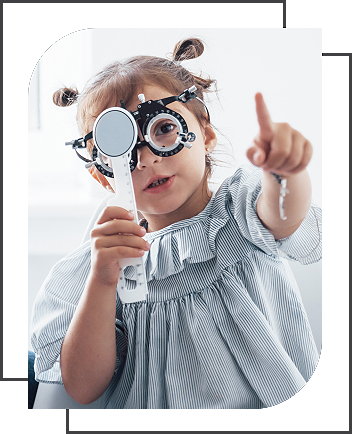 What to Expect with Myopia Control
Myopia control aims to slow the progression of myopia which protects your child's vision and ocular health. We offer specialty lenses, regular contact lenses, and eyeglasses to help your child see clearly and comfortably.
Untreated myopia can progress over time, making it difficult to succeed academically for many children. Over 30% of children are believed to have myopia, and over 10 million people are reported to have high myopia.
High myopia (greater than -6.00 D prescription) increases the risk of developing sight-threatening conditions, such as retinal detachment or glaucoma. Stronger prescriptions can also increase the cost of glasses and lenses.
Globally, myopia is a growing issue. That's why we treat it right here at home.
There are a variety of treatments available to help slow the progression of myopia. These treatments can be prescribed based on your child's needs and lifestyle.
MiSight Contact Lenses
MiSight 1 day with ActiveControl Technology contact lenses are a comfortable, easy option for myopia control in children. These lenses signal the body to slow the rate at which the eyeball grows longer. Longer eyeballs have stronger prescriptions for myopia.
MiSight 1 day lenses are proven to slow the progression of myopia by 59% and 90% of children said they preferred MiSight 1 day lenses to glasses. These lenses are also daily disposables, so your children can throw them out after each use instead of worrying about cleaning their lenses each night. Help your child enjoy all of their favourite activities with clear vision and comfort.
MiyoSmart Spectacle Lens
MiyoSmart spectacle lenses are an innovative and effective option for myopia control in children. The award-winning D.I.M.S. technology uses a central optical zone to correct refractive errors. Based on clinical trials, MiyoSmart lenses curb myopia progression by an average of 60%.
These lenses offer clear vision and myopic defocus at all distances for young children by helping the eyes where to focus light the same way as "normal" vision.
MiyoSmart lenses are impact-resistant and provide UV protection so kids can keep being kids. Designed to be light and thin for ultimate comfort, MiyoSmart lenses are a great option for myopia control in children.
Where to Start
Collingwood Optometry and Cwood Eyecare can control myopia before it progresses and impacts your child's sight.
Schedule your child's next eye exam to get started today. Collingwood Optometry
We're located right off Hume Street across from Collingwood General and Marine Hospital. If you have any trouble finding us, please give us a call.
460 Hume St. Unit 1

Collingwood

,

Ontario

L9Y 1W6
Office Hours
Monday

:

8:45 AM

–

5:00 PM

Tuesday

:

8:45 AM

–

6:30 PM

Wednesday

:

8:45 AM

–

5:00 PM

Thursday

:

8:45 AM

–

6:30 PM

Friday

:

8:45 AM

–

5:00 PM

Saturday

:

Closed

Sunday

:

Closed
CWood Eyecare
Find us off Hurontario Street, just down from Collingwood's Town Hall. If you have any trouble finding us, please give us a call.
115 Hurontario St. Suite 203

Collingwood

,

Ontario

L9Y 2L9
Municipal parking available on Hurontario Street or Ste Marie Street
Office Hours
Monday

:

9:00 AM

–

5:00 PM

Tuesday

:

9:00 AM

–

5:00 PM

Wednesday

:

9:00 AM

–

5:00 PM

Thursday

:

9:00 AM

–

5:00 PM

Friday

:

9:00 AM

–

5:00 PM

Saturday

:

Closed

Sunday

:

Closed