Graduate From Glasses
At Collingwood Optometry and Cwood Eyecare, we understand that some patients do not want to rely on glasses or contact lenses. We can go over the surgical options available for you based on your age, prescription and ocular health and refer you in the right direction.
You'll get pre- and post-operative care for your procedure. Alongside a comprehensive eye exam, we can help determine the right procedure for you and your eyes.
Contact us to book your consultation today.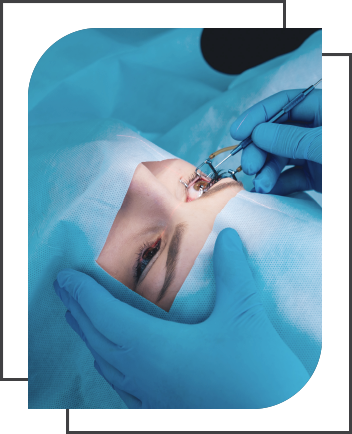 Clarify Your Options
LASIK
Laser-assisted in situ keratomileusis (LASIK) is a procedure that reshapes your cornea (clear front portion of your eye) by using a laser.
Your ophthalmologist starts by creating a flap on the surface of your eye. Using a laser, which is preprogrammed with your eye's unique measurements, your doctor will gently remove the necessary tissue to reshape your cornea. This helps correct your vision by adjusting the angle at which light enters and is focused by your eyes.
This treatment takes about 10 to 20 minutes and is generally painless. Your recovery time should be minimal. Talk to your optometrist to see if LASIK is right for you.
PRK
Photorefractive keratectomy (PRK) is a form of laser eye surgery that corrects refractive errors. PRK is similar to LASIK, but the procedure involves removing the eye's epithelium (outer layer of the cornea).
PRK can be a good option for people with thin corneas who don't qualify for LASIK, or for people who are particularly active.
This treatment usually takes 10 to 20 minutes. Contact our team to learn more about PRK.
Refractive Lens Exchange
Refractive lens exchange (RLE) surgery is a safe, effective alternative for people who are not candidates for LASIK or PRK. RLE is typically used to treat cataracts, but it can also help correct refractive errors.
During an RLE procedure, your ophthalmologist will remove the natural crystalline lens of your eye. Contact us today to learn more about RLE and whether it's right for you.
Is Laser Eye Surgery Right for Me?
Laser eye surgery is a great option for many people who want to correct their vision, but it's not always right for everyone.
Contact us today to book your consultation and determine whether laser eye surgery is a good option for you. Collingwood Optometry
We're located right off Hume Street across from Collingwood General and Marine Hospital. If you have any trouble finding us, please give us a call.
460 Hume St. Unit 1

Collingwood

,

Ontario

L9Y 1W6
Office Hours
Monday

:

8:45 AM

–

5:00 PM

Tuesday

:

8:45 AM

–

6:30 PM

Wednesday

:

8:45 AM

–

5:00 PM

Thursday

:

8:45 AM

–

6:30 PM

Friday

:

8:45 AM

–

5:00 PM

Saturday

:

Closed

Sunday

:

Closed
CWood Eyecare
Find us off Hurontario Street, just down from Collingwood's Town Hall. If you have any trouble finding us, please give us a call.
115 Hurontario St. Suite 203

Collingwood

,

Ontario

L9Y 2L9
Municipal parking available on Hurontario Street or Ste Marie Street
Office Hours
Monday

:

9:00 AM

–

5:00 PM

Tuesday

:

9:00 AM

–

5:00 PM

Wednesday

:

9:00 AM

–

5:00 PM

Thursday

:

9:00 AM

–

5:00 PM

Friday

:

9:00 AM

–

5:00 PM

Saturday

:

Closed

Sunday

:

Closed