Free & Flexible Vision
Get clear vision from every angle with contact lenses.
Contact lenses are more than an alternative to eyeglasses—contacts can be used to control the progression of myopia, treat dry eye symptoms, and more. Our team can work with you to find contact lenses that fit your eyes and lifestyle.
Book your contact lens fitting with us today.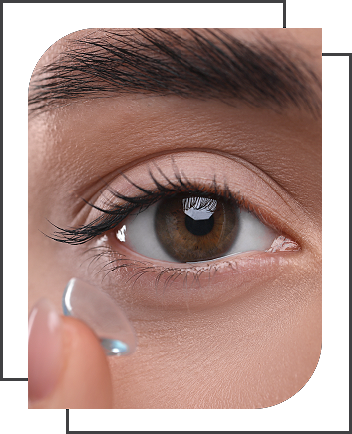 How It Works
Before you use contact lenses, you should visit us for a contact lens exam and fitting. Your optometrist can provide guidance on the best contact lenses for you based on your prescription, lifestyle, wants and needs, and other relevant factors.
We'll perform a contact lens evaluation and fitting where you can test the lenses recommended for you. You may want to take your new lenses for a trial run. Wear your contact lenses for the trial period your optometrist recommends to ensure they work for you. If you find your contacts are uncomfortable or too much work, give us a call so we help you determine a better fit.
Answering Your Burning Q's
Contact lenses can be intimidating at first, but don't worry. We're here to guide you through the process so you can experience clear, comfortable vision at every angle.
How Long Do Contact Lenses Last?
Modern contact lenses come in a variety of styles and lifespans. You can get anything from daily disposable lenses to continuous wear contact lenses depending on your ocular needs and lifestyle preferences.
Usually, contact lenses expire after about 4 years, but it's best to check with the manufacturer.
Generally, the softer the lens, the shorter the lifespan. However, softer lenses don't necessarily equate to more comfort for you. Your optometrist will help you determine the right contact lenses for your eyes and lifestyle.
Can Contacts Fix Astigmatism?
Modern contact lenses can correct astigmatism.
Your optometrist can discuss the options available during your eye exam.
Can I Wear Contacts with Dry Eye?
In the past, people with dry eye were often unable to wear contact lenses. Their eyes could become too dry and uncomfortable while wearing the lenses.
However, we're excited to offer scleral lenses as an option for people with dry eye to enjoy free, flexible vision. Learn more about scleral lenses here.

Ready to Experience Vision Without Borders?
Book your contact lens appointment with our team at Collingwood Optometry or Cwood Eyecare today to experience the freedom and flexibility of perfect vision. Collingwood Optometry
We're located right off Hume Street across from Collingwood General and Marine Hospital. If you have any trouble finding us, please give us a call.
460 Hume St. Unit 1

Collingwood

,

Ontario

L9Y 1W6
Office Hours
Monday

:

8:45 AM

–

5:00 PM

Tuesday

:

8:45 AM

–

6:30 PM

Wednesday

:

8:45 AM

–

5:00 PM

Thursday

:

8:45 AM

–

6:30 PM

Friday

:

8:45 AM

–

5:00 PM

Saturday

:

Closed

Sunday

:

Closed
CWood Eyecare
Find us off Hurontario Street, just down from Collingwood's Town Hall. If you have any trouble finding us, please give us a call.
115 Hurontario St. Suite 203

Collingwood

,

Ontario

L9Y 2L9
Municipal parking available on Hurontario Street or Ste Marie Street
Office Hours
Monday

:

9:00 AM

–

5:00 PM

Tuesday

:

9:00 AM

–

5:00 PM

Wednesday

:

9:00 AM

–

5:00 PM

Thursday

:

9:00 AM

–

5:00 PM

Friday

:

9:00 AM

–

5:00 PM

Saturday

:

Closed

Sunday

:

Closed