Look Out for Your Ocular Health
We strive to provide the most comprehensive eye care possible so you can put your mind at ease. This is why we look for eye diseases and conditions during your comprehensive eye exam to help protect your vision.
With proper eye disease diagnosis and management, we can strive together for clear, comfortable vision.
Book your next eye exam today and gain confidence and clarity surrounding your vision.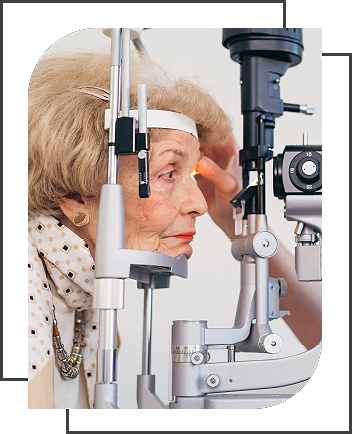 Know Your Risk Factors
No one is completely immune to eye disease, but certain factors can increase your risk of developing eye disease. These factors include:
Aging
Obesity
Diabetes
High blood pressure
Long-term sun exposure
Smoking or alcohol abuse
Previous eye injuries or surgeries
Regardless of who you are, we use state-of-the-art technology to diagnose and treat eye diseases at the source.
We use optical coherence tomography (OCT) with filters to take cross-section pictures of your retina. This is a non-invasive imaging test that uses light waves to take the pictures. We also perform fundus photography with filters to see the inner structures of your eye.
This kind of advanced technology helps us catch signs of disease early and begin treatment before your vision is heavily impacted.
What We Watch For
Many eye diseases and conditions can develop without noticeable symptoms.
Subtle changes to your vision can be a sign of an eye issue that could have started many years earlier. The best way to detect and prevent eye disease is by scheduling and attending regular eye exams.
The earlier a disease is detected, the more effective treatment can be.

Are You Ready for Your Next Eye Exam?
Book your next eye exam with our team today to get ahead of your risk factors and symptoms. Early detection helps create effective protection. Collingwood Optometry
We're located right off Hume Street across from Collingwood General and Marine Hospital. If you have any trouble finding us, please give us a call.
460 Hume St. Unit 1

Collingwood

,

Ontario

L9Y 1W6
Office Hours
Monday

:

8:45 AM

–

5:00 PM

Tuesday

:

8:45 AM

–

6:30 PM

Wednesday

:

8:45 AM

–

5:00 PM

Thursday

:

8:45 AM

–

6:30 PM

Friday

:

8:45 AM

–

5:00 PM

Saturday

:

Closed

Sunday

:

Closed
CWood Eyecare
Find us off Hurontario Street, just down from Collingwood's Town Hall. If you have any trouble finding us, please give us a call.
115 Hurontario St. Suite 203

Collingwood

,

Ontario

L9Y 2L9
Municipal parking available on Hurontario Street or Ste Marie Street
Office Hours
Monday

:

9:00 AM

–

5:00 PM

Tuesday

:

9:00 AM

–

5:00 PM

Wednesday

:

9:00 AM

–

5:00 PM

Thursday

:

9:00 AM

–

5:00 PM

Friday

:

9:00 AM

–

5:00 PM

Saturday

:

Closed

Sunday

:

Closed