Healthy Eyes Begins with a Comprehensive Exam
A comprehensive eye exam at Collingwood Optometry and Cwood Eyecare is more than reading the letters on an eye chart. Along with providing you an updated prescription, our optometrists test for signs of eye disease and assess how well your eyes work together.
The health of your eyes is also an indicator of other systemic health conditions, making eye exams an essential part of maintaining your overall health.
Schedule your next appointment today.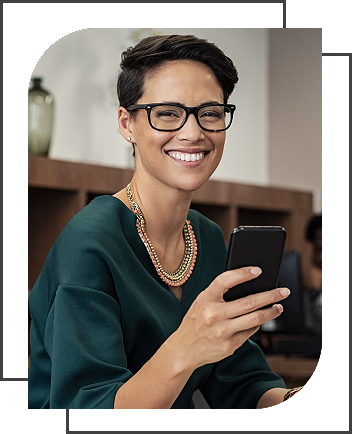 How Often Should You
Schedule an Eye Exam?
In the early stages, vision problems don't always present themselves with noticeable signs or symptoms. Regularly visiting your optometrist to monitor your eyes for the potential signs of eye disease is an important first step in early detection and intervention.
The Canadian Association of Optometry suggests the minimum frequency of regular eye exams should be as follows:
Adults 20–39 should have their eyes examined every 2–3 years
Adults 40–64 should have their eyes examined every 2 years
Adults 65+ should have their eyes examined annually
Your optometrist may recommend more frequent eye examinations based on your eye health, health history, or potential for eye disease.
An Exam Process Tailored to Your Eyes
Your eyes are unique, and our exam process is individualized to each patient's needs.
From the moment you walk into our office to the moment you leave, a friendly face will guide you through each step of our exam process. Starting at the front desk and moving through the preliminary testing into the exam room, you're sure to feel comfortable and confident in our care. Collingwood Optometry
We're located right off Hume Street across from Collingwood General and Marine Hospital. If you have any trouble finding us, please give us a call.
460 Hume St. Unit 1

Collingwood

,

Ontario

L9Y 1W6
Office Hours
Monday

:

8:45 AM

–

5:00 PM

Tuesday

:

8:45 AM

–

6:30 PM

Wednesday

:

8:45 AM

–

5:00 PM

Thursday

:

8:45 AM

–

6:30 PM

Friday

:

8:45 AM

–

5:00 PM

Saturday

:

Closed

Sunday

:

Closed
CWood Eyecare
Find us off Hurontario Street, just down from Collingwood's Town Hall. If you have any trouble finding us, please give us a call.
115 Hurontario St. Suite 203

Collingwood

,

Ontario

L9Y 2L9
Municipal parking available on Hurontario Street or Ste Marie Street
Office Hours
Monday

:

9:00 AM

–

5:00 PM

Tuesday

:

9:00 AM

–

5:00 PM

Wednesday

:

9:00 AM

–

5:00 PM

Thursday

:

9:00 AM

–

5:00 PM

Friday

:

9:00 AM

–

5:00 PM

Saturday

:

Closed

Sunday

:

Closed