Give Your Child the Best View, Every Day
Eye exams are incredibly important for preserving your child's ocular health and ensuring they have clear, comfortable vision.
Unlike us, children are often unaware of imperfections in their vision. If the letters on the whiteboard are fuzzy, they may assume that's "just how it looks." Refractive errors like myopia, also known as "nearsightedness," can develop during childhood.
Bringing your child in for regular eye exams can identify refractive errors and other eye conditions, and correct them with a proper prescription. Eye exams can also identify early signs of eye diseases, allowing us to start treatment early to protect your child's health and vision.
Book your child's next appointment with us today.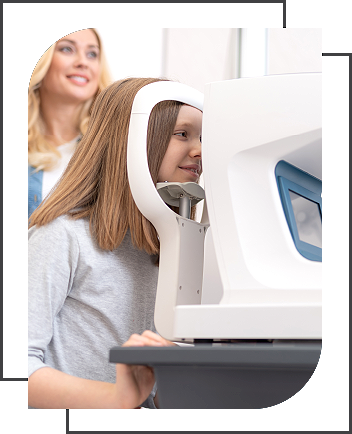 What to Expect During a Children's Eye Exam
Your child's eye exam will be slightly different from an adult's. We use specialized testing methods based on your child's age and abilities to ensure we examine all aspects of their vision and ocular health.
Your child doesn't need to know their ABCs before their first eye exam—they should have their eyes examined at 6 months old. We can use patterns and pictures to measure their vision. During the exam, we'll look at a variety of things, such as:
Contact us to schedule your child's next eye exam with us today.
Is It Time for Your Child's Next Visit?
Children should have an eye exam at 6 months old and between 2 to 5 years old. From then on, children should have annual eye exams to monitor changes in their vision as they grow up.
If you notice changes in your child's vision, you should bring them in as soon as possible. Some signs and symptoms of vision issues in children include:
Squinting
Head tilting
Covering one eye
Rapid blinking
Rubbing eyes frequently
Bring your child to Collingwood Optometry or CWood Eyecare for their next eye exam. Collingwood Optometry
We're located right off Hume Street across from Collingwood General and Marine Hospital. If you have any trouble finding us, please give us a call.
460 Hume St. Unit 1

Collingwood

,

Ontario

L9Y 1W6
Office Hours
Monday

:

8:45 AM

–

5:00 PM

Tuesday

:

8:45 AM

–

6:30 PM

Wednesday

:

8:45 AM

–

5:00 PM

Thursday

:

8:45 AM

–

6:30 PM

Friday

:

8:45 AM

–

5:00 PM

Saturday

:

Closed

Sunday

:

Closed
CWood Eyecare
Find us off Hurontario Street, just down from Collingwood's Town Hall. If you have any trouble finding us, please give us a call.
115 Hurontario St. Suite 203

Collingwood

,

Ontario

L9Y 2L9
Municipal parking available on Hurontario Street or Ste Marie Street
Office Hours
Monday

:

9:00 AM

–

5:00 PM

Tuesday

:

9:00 AM

–

5:00 PM

Wednesday

:

9:00 AM

–

5:00 PM

Thursday

:

9:00 AM

–

5:00 PM

Friday

:

9:00 AM

–

5:00 PM

Saturday

:

Closed

Sunday

:

Closed